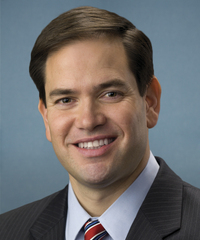 Sen. Marco Rubio
Florida Congressional delegation
Call 202-224-3041
Email me from my official web site
284 Russell Senate Office Building Washington DC 20510
Sen. Marco Rubio: key Medicare votes

April 14, 2015
Status: House bill passed
On Passage of the Bill H.R. 2 [more]
Sen. Rubio voted No, which we score as unfavorable.

May 25, 2011
Status: House motion to proceed rejected
This bill would end Medicare as we know it, replacing it with a voucher system for seniors to buy health insurance coverage on the open market. Actuaries say the amount of the vouchers would not be enough for seniors to replace the coverage they would lose with the end of Medicare. [more]
Sen. Rubio voted Yes, which we score as unfavorable.
Blog posts mentioning Sen. Marco Rubio
Nov. 4, 2015 — Sen. Marco Rubio has warned that Medicare will bankrupt itself unless his tax and "entitlement" reform proposals are implemented. If truth be told, Medicare probably would indeed face bankruptcy should Rubio's tax reform plan actually be implemented.