Sen. John Isakson
and health care reform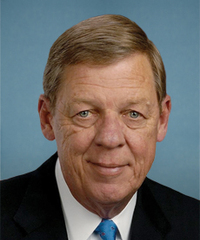 NOTE: This individual is not a current member of congress.
Share how Sen. Isakson votes:
Sen. John Isakson: key health care votes
Status: Senate motion to proceed rejected 40-57, 3 not voting

This bill would end Medicare as we know it, replacing it with a voucher system for seniors to buy health insurance coverage on the open market. Actuaries say the amount of the vouchers would not be enough for seniors to replace the coverage they would lose with the end of Medicare. [more]

Sen. Isakson voted Yes, which we score as unfavorable.
---
04/18/2011 4:04 PM --
The good news is that Ryan's plan doesn't appear likely to become law. The Democratic-controlled Senate and President Obama stand in its way. But the vote itself provides a stark ...